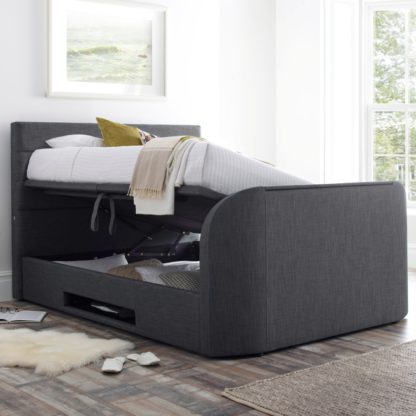 Happy Beds
Annecy – Super King Size – Ottoman TV Bed – Dark Grey – Fabric – 6ft
£1,449.99 From Happy Beds
Description
The Annecy Ottoman TV Bed is packed full of amazing tech that encourages you to spend a couple of extra hours in bed! Whether you're watching the latest TV show or taking on the next boss in your favourite video game, do so in style from the comfort of your own bed. With added Ottoman storage, you can keep your bedroom neat and tidy effortlessly whilst you sit back and relax in style.
Stunning Slate Grey Fabric
Upholstered in a stunning slate grey fabric, the Annecy Ottoman TV Bed certainly doesn't compromise on beauty. The large rectangular headboard ensures a gorgeous and timeless aesthetic that is bursting with charm. The neutral dark grey tones guarantee that the Annecy TV Bed will effortlessly complement your existing decor and make for an outstanding centerpiece that's available in 4ft, 5ft and 6ft sizes, ideal for all types of bedrooms.
Integrated Cutting Edge Tech
The Annecy Fabric Ottoman TV Bed features an incredible amount of integrated tech that is perfect for immersing you into your entertainment. With a 2.1 surround sound speaker system and built in sub woofer (5ft and 6ft only), audio sounds exceptionally rich and cinematic. Furthermore, the built in Bluetooth connectivity and USB charging points found on each side of the headphone, you can seamlessly connect your mobile device. The Annecy Fabric Ottoman Bed innovatively switches your TV off when it is lowered back inside the footboard for maximum convenience.
Spacious Storage and Maximum Comfort
The Annecy Slate Grey TV Bed is an excellent choice for those wishing to organise their bedroom. Not only does the luxurious upholstered footboard house a TV up to 43" but also plenty of storage offerings. Gas lifted ottoman style mattress base allows for effortless access to all of your belongings, whilst a storage compartment on the side is the perfect place to house your games console, TV box or DVD player. All of these amazing features on a ventilated style mattress base that provides optimum comfort for all sleepers.