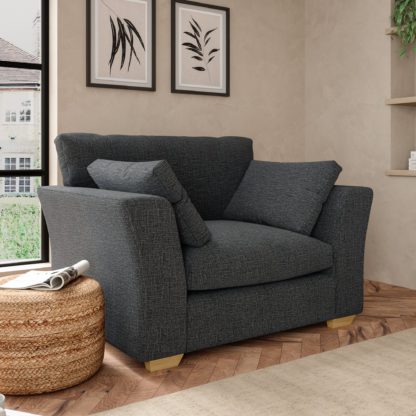 The Edited Life
Blakeney Slub Cotton Blend Snuggle Chair Slub Cotton
£849.00 From Dunelm
Description
The Edited Life – Blakeney Slub Cotton Blend Snuggle Chair
Slub cotton blend fabric, made from 61% recycled polyester and 39% cotton
Quallofil® Blue fibre seat filling – a long-lasting, shape-holding fibre made from 50% recycled plastic from Plastic Bank®
Recyclable feet and frames – these sofas are designed to last, however when the end of their life comes it's nice to know their parts can be recycled
25 year frame guarantee
Made to order – we only use the materials we need
Made in the UKThe Blakeney Slub Cotton Blend Snuggle Chair a welcome addition to any living space. The timeless design of this chair has been made to last, and features an eco-poly/cotton blend fabric upholstery that's hardwearing, easy to clean, and quick drying, making it the ideal choice for a busy home. The snuggle chair is the perfect blend of spacious and cosy, and is sure to be a favourite for years to come.
As this product is made to order, it can only be returned if faulty or if not manufactured to the specifications given. For more information please view our full returns policy here.
Live well. Mean well. Be well.
Many of us want to live simpler, more responsible lives. As we become more aware of our surroundings and understand how our choices contribute to the world around us, more people are choosing to consume less and curate more.
The Edited Life introduces a new era of thoughtfulness in the home, with an understated collection of pieces chosen for their simple beauty, quality craftsmanship and innate usefulness that will last beyond any trend.
Having it all is no longer the goal; having enough, and it being just right, is.