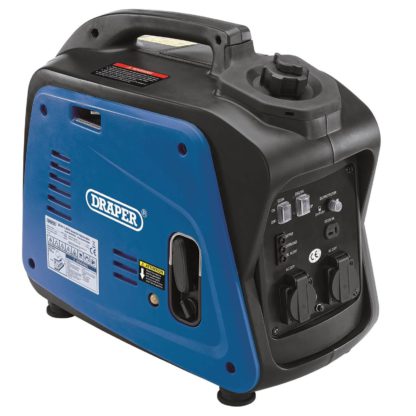 Draper
Draper 2.0 KVA Inverter Generator
£757.56 From Homebase
Description
A powerful, compact and lightweight inverter generator, perfect for building sites and outdoor leisure activities, able to produce 100% pure sine wave power.
The benefit of pure sine wave technology is its low harmonic distortion and clean power output, which for example makes motors run faster, quieter and cooler and pure sine wave power has the added advantage of enabling safe use on sensitive electronic equipment like tablets, laptops and mobile phone etc.
The easy-pull recoil start enables the delivery of an impressive 2k.
VA output and each generator is fitted with two 13.
Amp, 3 pin sockets and a 12.
V DC output.
The compact 4.1 litre fuel tanks achieves an outstanding 3.8 hours of continuous power at 100% usage and its multitude of other features, lightweight construction and space age inverter technology combine to provide a class leading, inverter generator, perfect for when mains power is unavailable