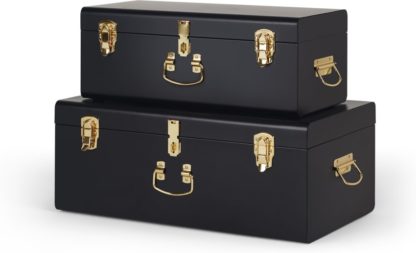 MADE.COM
Gunner Set of 2 Metal Trunks, Matt Black & Brass
£85.00 From MADE.COM
Description
Gunner is ideal for clearing away all your bits and bobs. And with contrasting metallic accents, these trunks are the storage option with the most style.
Roomy and hardwearing. Gunner is a set of 2. That's twice as much storage space to make sure your living spaces remain free of clutter.
You'll find Gunner in grey and black. The perfect shades to slip seamlessly into any decor. And when they look this good, you won't mind having them on display.