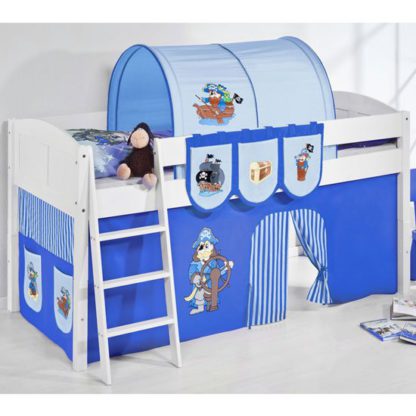 Sale!
Furniture in Fashion
Hilla Children Bed In White With Pirate Blue Curtains
Description
Adaptable system bed to play, sleep and dream. This timeless midsleeper Hilla of the brand LILOKIDS is the favorite of all children and parents. In a few easy steps you can turn the midsleeper into a normal single bed or with an additional set the bed can also be turned into a bunk bed or high sleeper. This way the bed is also suitable for teenagers at a later stage. Thanks to the curtains the bed invites your children not only to sleep and dream but also to play and use their imagination. The stairs can be fixed on either side of the bed, so that it will fit perfectly in each bedroom. Out of our wide range of colourful curtains you can choose a curtain that blends in with your individual room decoration. FEATURES: Material: Solid Pine Wood, 100% cotton Finish: White Lacquered, Blue Slats, Tunnel, Pockets are included Please Note: Mattress and Pouffe are not Included System bed of solid pine wood, white lacquered, including curtain and safety border all around The stairs can be assembled on the left and right hand side and the wide treads provide a safe ascent Our Hilla bed is convertible in a single bed and, with an additional modification set, also in a bunk bed or high sleeper The curtain fabric is made of Polyester and the fabric is washable at 30C maximum The size of the bed is 90 x 200 cm, the overall size is app 98 x 208 cm And the thickness of the posts is 5, 4 x 5, 4 cm This high quality bed of solid pine wood is very robustly manufactured and will ensure you all the advantages of a durable branded product Unique design piece of furniture Available at an affordable price Images shown are for illustration purpose only BED (IDA4106KW-PIRBLU) DIMENSIONS: Length: 208cm Height: 113cm Width: 98cm SLAT (NELE-LR-90200K) DIMENSIONS: Length: 200cm Height: 2cm Width: 90cm TUNNEL (TN14-PIRAT-BLAU) DIMENSIONS: Length: 100cm Height: 75cm Width: 90cm POCKET (TS14-PIRAT-BLAU) DIMENSIONS: Length: 85cm Height: 41cm Width: 0.