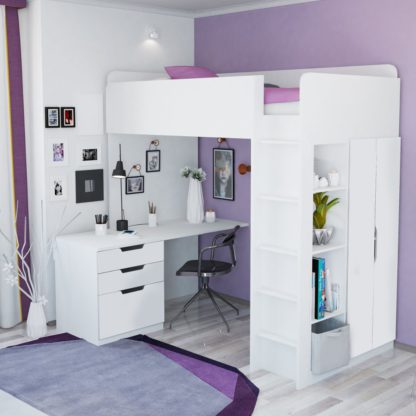 Sale!
Happy Beds
Loft Station White Wooden High Sleeper Storage Bed Frame – EU Single
Description
The Loft White Wooden High Sleeper Storage Bed is the perfect commodity for any child ages 6 or above. More suited to an older child, the frame includes a desk, wardrobe and additional storage units. Built from sturdy particleboards, the frame is strong and will hold your child's weight and all their personal belongings with no risk of collapse.
The storage possibilities are endless with the Loft High Sleeper Storage Bed! In total, the bed comes with 3 spacious pull-out drawers, 4 larger open shelving units and a wardrobe fit for holding many items of clothing. With space for holding books, plants, clothes, electricals and more, the Loft Storage Bed will ensure your child's room remains clutter-free whilst safely holding all of their personal items. Isn't that the dream of all parents?.
Extremely functional, the Loft White Bed doubles up as a sleeping space, study area and of course, storage area. The desk is not fixed in the frame and can be turned to create some extra space for a chair. The Loft High Sleeper Bed is all about convenience, and that's why every inch of storage space is easily accessible, making your school run a breeze. No more being late because your child couldn't find their school books!.