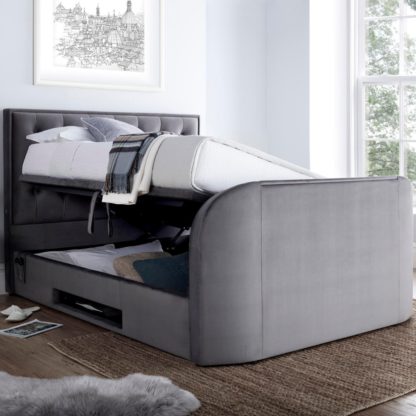 Happy Beds
Lyon – Super King Size – Ottoman TV Bed – Grey – Velvet – 6ft
£1,529.99 From Happy Beds
Description
The Lyon Grey Velvet Fabric Ottoman TV Bed is at the height of fashion on top of providing you with an abundance of storage space and a fabulous space to hold a flat screen today! Sunday mornings have truly never been better.
Grey Velvet Style. Style is truly at the forefront of this bed with its beautiful diamond patterned buttoned headboard and stunning grey velvet upholstery. The Lyon Grey Velvet bed features both a tall footboard and headboard to both provide a stunning look and to give you additional security whilst you snooze the night away!.
The Lyon Ottoman TV Bed really does ooze class and style. The subtle touches and high attention to detail really make the Lyon the perfect choice for your bedroom. The lift-up straps and the stylish remote control holder are also made from the high quality grey velvet fabric!.
Multimedia Capabilities
Not only is the Lyon Grey Velvet Fabric Ottoman Bed stunning to look at, but its also a high tech hub! With a holder for a 43" TV in the footboard, built in surround sound speakers, USB charging ports on both sides of the headboard and Bluetooth capability! Getting out of bed will never have been harder than when you have the Lyon Grey Velvet Fabric Ottoman TV Bed in your home. Please note that your TV will need to be compatible with a wall mount in order to be used with this bed, as it features an integrated wall mount.
2 USB Sockets. Surround Sound Speakers. Bluetooth Connectivity. Remote Controlled Electric TV Mechanism. 43" TV Compatibility. Fully Discrete Wires and Cabling.
So Much Storage
Not only does the Lyon Grey Velvet Fabric Ottoman TV Bed showcase style and provide you with a brilliant opportunity to watch TV in bed, but it also provides you with lots of storage. The base of the bed acts as an easily accessible ottoman storage unit with plenty of space to store your clothes, shoes and spare bedsheets! The solid base boards also means that you are able to store your items with the comfort of knowing they will be safe and secure.
Access the the ottoman area can be from either the left or the right hand side, you can make the choice to suit your room during assembly. The left hand side rail also features a media tray, which is perfect for housing digital TV boxes, games consoles or DVD players. The Lyon Grey Velvet Fabric Ottoman TV Bed is delivered flat packed to ensure an easy arrival.