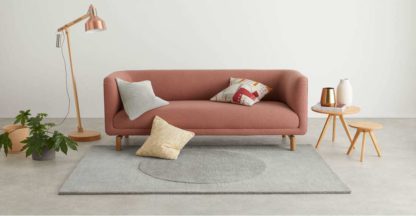 Sale!
MADE.COM
Mateo Carved Wool Rug, Large 160 x 230cm, Mist Grey
Description
Looking for a rug, but torn between pattern and plain? Meet Mateo. A statement rug that pulls focus, while the understated carved design won't overwhelm your space.
Let texture do the talking. Mateo's made from 100% tufted wool, with a hand-carved spherical design in the centre. The high-low pile gives an eye-catching 3D effect.
Designed in-house by MADE Studio. They're a talented bunch. Put their creation to good use under a coffee table, or bring some colour and softness to your bedroom set up.
We're known for great textiles. Why? We use our trusted manufacturers in India, of course. They take our designs to the next level thanks to expert weaving techniques and attention to detail.