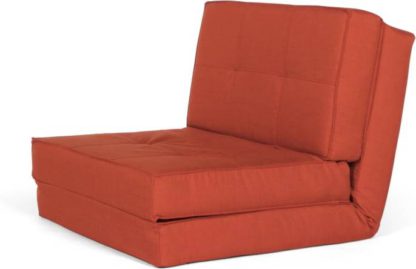 MADE.COM
Peggy Sofa Bed, Bermuda Orange
£129.00 From MADE.COM
Description
Switch on the flatscreen, plug in the Playstation and get ready to play on Peggy, the informal sofa bed. Available in Bermuda Orange or Cygnet Grey.
Have it upright for chilling or gaming. But when it's Netflix time, adjust the seat back for a more laidback angle. You can choose the position, thanks to the adjustable back.
It's single size, and it's great value. Which makes it an easy win for guest bedrooms, games rooms and small living spaces. And if you want to make it a double, you could combine it with a second Peggy sofa bed.
This minimal, contemporary style only needs a few design details: subtle check stitching, and pulled dimples on the seat and back cushions.