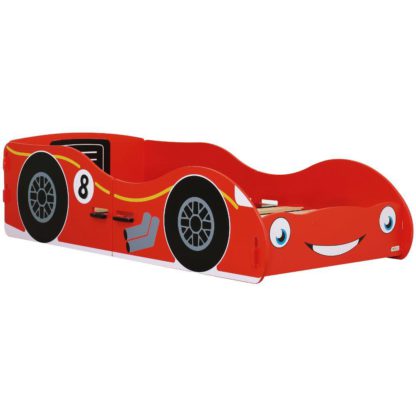 Sale!
Happy Beds
Red Racing Car Children's Toddler Bed Frame – 70 x 140 cm
Description
Get ready for a comfortable night's sleep, get set for a reliably durable bed, and go with style with the Racing Junior Bed. Whether your little racer is looking forward to taking on the fast-paced world of F1 or the rough and rowdy realms of Nascar, let them dream of their speedy days in peace with the Racing Junior Bed.
Superfast Style
Clad in a striking race car red and bearing the hallmark signs of a supercharged supercar, the Racing Junior Bed is the perfect choice for any young gearhead. All the more charming are the cartoonish enrichments, such as the anthropomorphic eyes and smile at the footend, emulating a sentient racecar in lieu of headlights and a grill.
The Fast & The Functional
Not settling for being supremely stylish, the Racing Junior Bed is also an incredibly sturdy bed. The Racing Junior Bed is crafted with solid slats, adding that extra element of comfort as well as an unrivalled level of support for essentially any child-friendly mattress.
Speedy Assembly
Designed to be both swiftly assembled and last for years, the Racing Junior Bed adheres to an innovative layout that's sturdy, despite consisting of pieces that merely slot together. This simple construction process is so hassle free that even your young racer-to-be can assist in the pit stop, apart from when the slats need to be screwed in.
Part of the Racing Car Red Children's Wooden Bedroom Furniture Collection
The Red Racing Car Toddler Bed is part of the Racing Car Red Wooden Children's Bedroom Furniture Collection.