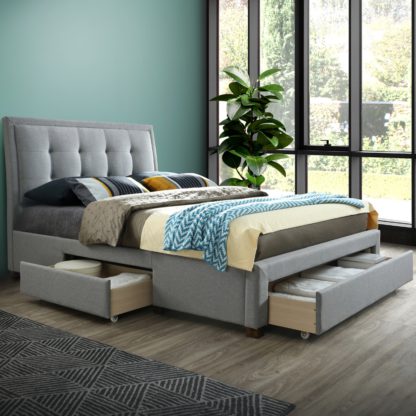 Happy Beds
Shelby – Double – 3 Drawer Storage Bed – Grey – Fabric – 4ft6
£469.99 From Happy Beds
Description
The Shelby Grey Fabric 3 Drawer Storage Bed combines stylish statement furniture with discrete storage solutions to ensure your bedroom is stunning and storage-savvy. Featuring a generous amount of under-bed space and a beautiful exterior, Shelby Grey Fabric 3 Drawer Storage Bed allows you to sleep comfortably knowing your belongings are discreetly organised.
Elegant Exterior
The stunning grey fabric adds a modern style to any bedroom by making good use of stylishly neutral tones, the likes of which welcome customisation via colourful additions such as bedding and cushions. The Shelby Grey Fabric 3 Drawer Storage Bed adheres to a timeless aesthetic that can appeal to a wide range of tastes, offering high quality construction and storage options. Features include a buttoned headboard with lined detailing, the likes of which offers a contemporary kind of elegance to the room. This high headboard, paired with an extremely low footend, create a sense of grandeur while the discreetly designed drawers grant copious amounts of storage space.
An Organised Bedroom
The Shelby Grey Fabric 3 Drawer Storage Bed is constructed from high quality materials, following a design to the letter that's crafted with endurance in mind. The resistant grey fabric upholstery is durable over a long period of time and the Rubberwood feet provide extra support for an exceptional level of support to match the exemplary level of comfort. The two drawers on either side of the bed offer plenty of space for storing large items and organising your belongings, with one on each side for highest convenience and a symmetrical finish, as well as a large drawer at the foot of the bed's base.
Efficient Assembly
The Shelby Grey Fabric 3 Drawer Storage Bed is delivered flat packed and ready for self-assembly. DIY amateurs needn't worry as the innovative design makes the construction process easy, especially when partnered with the clear and comprehensive instructions that are provided with every purchase and are also available online.