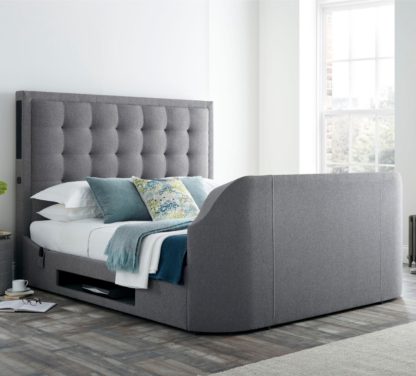 Happy Beds
Titan 2 – King Size – TV Bed – Light Smoke Grey – Fabric – 5ft
£2,164.99 From Happy Beds
Description
There aren't many things better than curling up in bed and watching a movie. Did you ever think those things could be a 2 in 1? Well with the Titan 2 Smoke Grey Fabric TV Media Bed you can be curled up watching anything you fancy at the touch of a button, without ever having to move from your bed.
Bold, Grand Luxury. The Titan Smoke Grey TV bed features a beautiful, smoke grey plush headboard with a deep buttoned design for additional luxury. This bed is sure to make a statement in any bedroom! There is a bold footboard that houses the television, this combined with the towering headboard creates a sense of security making your sleep space extra cosy!.
Multi-Media Bed!
The Titan 2 Smoke Grey Fabric TV Media Bed is not only a fabulous piece of luxury for your bedroom, but a high tech entertainment system too. With an easy access home in the footboard for your TV, a surround sound headboard, built in charging ports and a handy shelf for your electronic boxes and TV accessories this bed truly is the best it can be! Accommodating up to a 43" TV, your home cinema is just a click away!.
Delivered Prepared for Self Assembly. This bed truly will be the perfect addition to your master bedroom and the lazy Sunday accessory you never knew you needed. We deliver the Titan 2 Smoke Grey Fabric TV Media Bed flat packed ready for assembly so that delivery is as swift as possible. The bed is easy to assemble following the step by step instructions provided!.