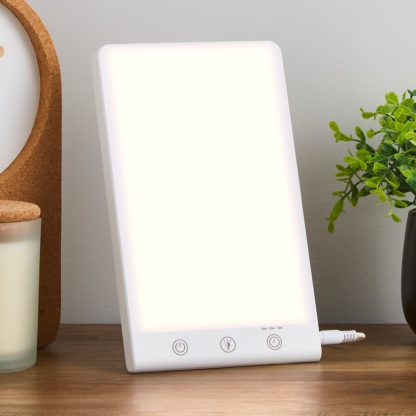 Dunelm
Wellness USB Lamp White
£38.00 From Dunelm
Description
Bulb: LED integrated 
Switch type: Touch 
1.2m White Cable 
Dimmable
5 Year Guarantee
LED lighting – environmentally friendly: energy-efficient, using up to 90% less energy than incandescent bulbs and they also have a life expectancy of up to 50 times longer than traditional bulbs and produce a lot less heat.
A modern, slim and compact design, the Wellness Lamp is perfect for well being and great for those working from home. Cleverly designed with smart features, the brightness and colour temperature can be adjusted according to your mood and you can also set a timer, making it a practical and useful addition for any home. The wellness lamp is handy with a USB port to plug straight into your laptop.