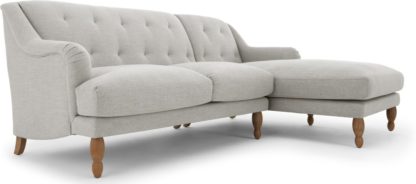 Sale!
MADE.COM
Ariana Right Hand Facing Chaise End Corner Sofa, Chic Grey
Description
We're kind of obsessed with Ariana's seat cushions. So deep, so generous – but filled with a soft padding for indulgent sink-in comfort. That's Sunday afternoons gone
Trend forecasters say we're entering a new design era – one that prioritises comfort. Yes – bouncy, voluptuous comfort is back. Ariana, it's your time.
You'll spot some classic design details here – like the turned legs, dimpled back and soft silhouette. The chaise end makes is perfect for putting your feet up on at the end of the day.