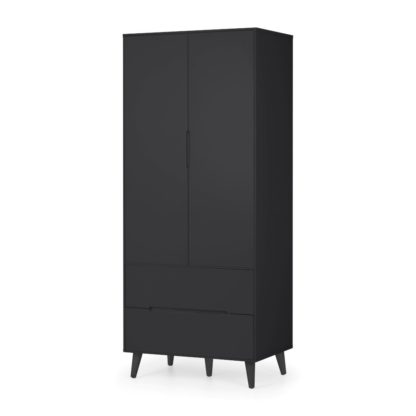 Sale!
Happy Beds
Alicia Grey 2 Door Wooden Combination Wardrobe
Description
Store your clothes with ease in the Alicia Anthracite Combination Wardrobe. Designed for those who have a lot of belongings, this wardrobe comes with a hanging storage area and two additional drawers for storing smaller items. This fabulous storage is all wrapped up in one amazing look, with an on-trend anthracite coating giving off a stylish appearance.
Superb Storage Available. Whether you need somewhere to store your winter coats or need a place to keep your travelling bag, the Alicia Anthracite Combination Wardrobe can accommodate different types of needs. Having not just one storage area for hanging clothes, but additional drawers, this wardrobe will allow you to store even more, in just one space.
Stylish Design. Transform your bedroom in no time with the Alicia Anthracite Combination Wardrobe. This stylish wardrobe features an ergonomic design with recessed handles and tapered legs that add a touch of personality to a bedroom. The Alicia Wardrobe benefits from a retro-inspired design yet offers a modern appearance with the Anthracite exterior that remains a popular colour choice with many. The Alicia Anthracite Wooden Combination Wardrobe is a part of the stunning Alicia Antracite Furniture Collection.