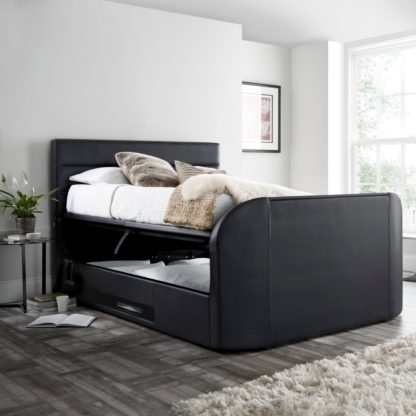 Sale!
Happy Beds
Annecy Black Leather Ottoman Media Electric TV Bed Frame – 4ft6 Double
Description
The Annecy Black Leather TV Bed is the perfect blend between luxurious style, exquisite comfort and cutting edge technology. Integrating an impressive array of features that aim to transform your bed into a home theatre, the Annecy TV Bed is an amazing feat of engineering that has to be experienced to be believed. Whether you're looking for a stylish bed to lounge around on Sundays or a hub to game and enjoy films in lavish comfort, the Annecy Black Leather TV Bed is an incredible choice.
Sleek Black Leather
With gorgeous black leather upholstery that is sleek and incredibly versatile, the Annecy certainly doesn't compromise on style. The large, lined headboard ensures that the Annecy Black Leather Bed boasts a premium aesthetic that will undoubtedly attract compliments from visiting guests. Timeless and bursting with charm, the Annecy Ottoman TV Bed makes for a perfect addition into absolutely any bedroom.
Entertainment Unit
If you've ever dreamed of having your own home entertainment system built into your bed, the Annecy Black Leather TV Bed is the perfect choice for you! Housing a TV up to 43" in the luxurious footboard, the Annecy TV Bed is bursting with integrated technology that makes your viewing and gaming experience truly incredible. Also featured in this bed is a 2.1 surround sound speaker system with a built in subwoofer (5ft and 6ft only), you can be blissfully immersed in your entertainment from the comfort of your own bed. Please note that your TV will need to be compatible with a wall mount in order to be used with this bed, as it features an integrated wall mount.
Spacious Ottoman Storage
The Annecy Black Leather TV Bed isn't just an incredible home entertainment solution, it also encourages a clean and tidy bedroom! With a gas lifted ottoman style mattress base, you can store all of your personal belongings with ease, effectively maximising your floor space. What's more, the Annecy Ottoman TV Bed has an integrated compartment area that is the ideal place to store your TV box or games console. This beautiful yet incredibly capable bed is provided flat packed for easy transportation, with helpful instructions provided to ensure a quick and easy self assembly.