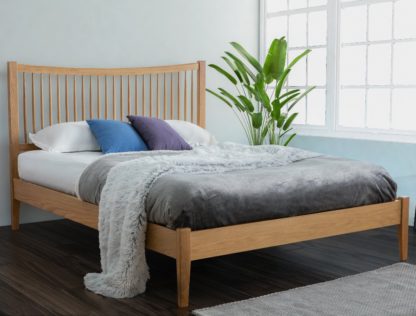 Happy Beds
Berwick – King Size – Oak – Wood – 5ft
£449.99 From Happy Beds
Description
The Berwick Oak Wooden Bed is a simple yet stylish oak design perfect for accommodating multiple sleepers with a comfortable sleeping space, ideal for all bedroom requirements. The elegant design featuring authentic oak detailing adds a modern simplicity which remains flexible to all home interiors, leaving room for personal touches of colour to make the Berwick Oak Wooden Bed your own. Introduce a splash of contemporary country with the Berwick Oak Wooden Bed and turn every night's sleep into a comfortable one!.
Characterful Oak. The Berwick Oak Wooden Bed is crafted from beautiful oak, with feature oak detailing for a naturally pleasing aesthetic and pretty finishing touches sure to attract endless compliments. The elegant structure features is crafted entirely from oak wood to create a seamlessly contemporary finish, whilst high headboard structure adds a superior elegance to your home. The detailed headboard with oak panelling adds a unique finish to the Berwick Oak Wooden Bed which is sure to remain highly fashionable over time; you certainly won't need to update this stylish bed in a hurry.
Maximum Support. The Berwick Oak Wooden Bed is crafted from high-quality oak wood complete with strong oak feet for a seamless yet strong construction which will endure over time, proudly standing on strong foundations for the ultimate lasting quality. The Berwick Oak Wooden Bed boasts a high headboard structure and sturdy base to provide maximum support to your mattress and encourage a prolonged life-span, whilst adding a sense of security to your comfortable sleeping space. A strong construction and sturdy materials allows the Berwick Oak Wooden Bed to maintain a lasting comfort over time and allow the beautiful exterior to stay stunning.
Simple Assembly. Every Berwick Oak Wooden Bed is delivered flat-packed ready for a simple self-assembly, thanks to our detailed instructions provided with every purchase and available for online access. The convenient under-bed space can be used as storage space to maximise bedroom space and organise your bedroom, the Berwick Oak Wooden Bed could be sitting beautifully in your home in no time. Welcoming a natural aesthetic with contemporary themes has never been so easy, your home will be completely transformed with the beautiful Berwick Oak Wooden Bed.