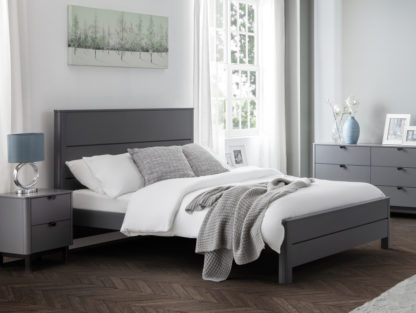 Sale!
Happy Beds
Chloe Grey Wooden Bed Frame – 5ft King Size
Description
With one of the most sleekest designs imaginable, the Chloe Grey Bed is truly a sight to behold. Ultra modern with curves in all the right places, this is one bed that is certain to make an exquisite centre piece in any room lucky enough to contain it. Whether you're looking to complete a contemporary look or simply want a sleeping space that is bursting with character, the Chloe Wooden Bed is an exceptional choice.
Modern Rounded Corners
The Chloe Wooden Bed is finished in a breathtaking storm grey lacquer that, whilst being exceptionally beautiful in its own right, is also versatile and neutral. Able to complement a wealth of decor, there's not a bedroom in which the Chloe Grey Bed wouldn't look outstanding in! To finish off this lavishly modern design, the rounded corners produce a soft appearance that is stunning from each and every angle.
Supportive Slatted Base
Appearance aside, the Chloe Grey Bed offers a wonderful night's sleep every night, thanks to the slatted base in which provides both support and comfort for all sleepers. Available in both double and king sizes, there's a Chloe Wooden Bed for rooms of all sizes. With its low foot end and minimalistic design, even the larger Chloe Wooden Bed will help your bedroom appear spacious.
Premium Quality Construction
The Chloe Grey Bed is crafted from high quality wooden materials that provide a solid and durable construction. The gorgeous grey lacquered finish helps resist damage whilst providing a gloss that is perfect for a modern interior. Each Chloe Wooden Bed is supplied flat packed with helpful instructions provided, enabling you to self assemble your new bed from the comfort of your home.