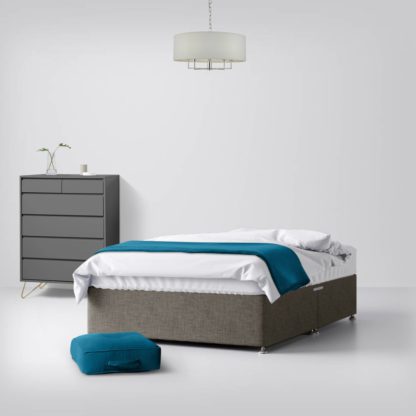 Sale!
Happy Beds
Classic Slate Grey Fabric Ottoman Divan Bed – 4ft6 Double
Description
Why Choose A Happy Beds Divan Bed?
Our divan beds are not limited by choice or design. With 6 sizes, 6 lovely colours and 4 spacious storage options available, you can create your very own divan bed, tailor-made to suit your needs. Your divan bed will be unique to you, and you alone. Manufactured with high-quality materials, our divan beds are not only luxurious but are long-lasting too. Purchase a custom divan bed from us and it will provide you with years of style and comfort.
Why We're Great
At Happy Beds, we offer an efficient delivery from purchase. Our divan beds are made-to-order and fully stocked, ready to be delivered at a moment's notice. With next day delivery to UK mainland addresses, we aim to get your new bed to your home within 24 hours. For your convenience, our beds are easy to assemble and require minimal effort to build. So easy in fact, that we promise from delivery to finished product, your new divan bed will be assembled in just minutes!.
4 Drawer Storage
Store blankets, bedding and bedroom essentials in the spacious 4 drawer storage. 2 equally-sized drawers at the foot of the bed and a drawer on either side of the bed mean you'll have all the space you need and more! Extremely practical, these pull-out drawers are convenient and allow easy access to all of your items. Keep calm and clutter-free with a 4 drawer storage base.
Ottoman
A firm favourite with many buyers, ottoman storage is perfect for those who lack bedroom space. With a simple pull-up motion, you will have easy access to all of your bedroom essentials in no time at all. Ideal for storing bedding, blankets, cushions and more, ottoman storage will help keep your bedroom clutter-free whilst safely storing your belongings. The storage possibilities are endless!.
2 Drawer Same Side Storage
For those who need a little bit of extra space, a 2 drawer same side storage option is ideal. Great for storing bedding, blankets and more, you can decide which side of the bed you'd like your drawers to be placed for added convenience. A simple pull-out motion makes the 2 drawer storage practical and easy to access whilst securely storing your belongings in the base.
Platform Base Only
For those with less space, platform beds are the perfect option. Especially great for attic bedrooms, platform beds are seriously adaptable and can be changed to fit their surroundings. Headboards can be easily attached to platform beds for an upgraded appearance, or can be taken off if needed, like to accommodate a room with a sloped ceiling. A perfect accommodating piece for any bedroom.