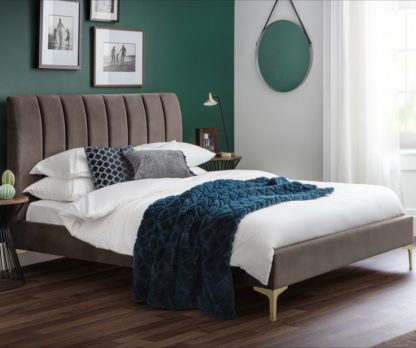 Sale!
Happy Beds
Deco Truffle Velvet Fabric Bed Frame Only – 5ft King Size
Description
The Deco Truffle Velvet Fabric Bed has it all. You can have a taste of Gatsby glitz and glamour with the fabulous scalloped headboard, whilst keeping things low profile with a sleek and simplistic design. The Deco Fabric Bed is finished with a beautiful brown grey truffle velvet fabric and statement brushed gold legs ensuring that luxury is never too far away. This bed will make a perfect centrepiece for your bedroom, it is contemporary in design yet, calling back to the roaring 20s, what more could you need?.
Truffle Velvet Finish
The Deco Bed comes in a stunning truffle brown grey velvet finish, perfect whether you're trying to create a luxurious room or a laid back sleeping space. This bed is sure to fit any existing bedroom décor due to its simple style though, you could easily create an art deco themed bedroom centred around this versatile bed, coupled with rich emerald greens and beautiful teals and you are sure to have an enviable space!.
Scalloped 20s Headboard
The 20s were a time of style, luxury and decadence and the Deco Velvet Fabric Bed showcases just that, whilst maintaining a modest contemporary design. The scalloped, generous headboard is the perfect way to add some glamour to your bedroom whilst still being stylish and subtle. The low footend increases bedroom space and allows you to see the headboard in all its stunning glory!.
Beautiful Statement Feet
The gorgeous brushed gold metal feet on the Deco Bed complement the simple frame and truffle colour wonderfully, adding some extra luxury to this special bed. The Deco Truffle Velvet Fabric Bed is shipped flat packed to ensure that it can fit through all your door frames! The bed is easily self-assembled by you at home following the helpful instructions provided.