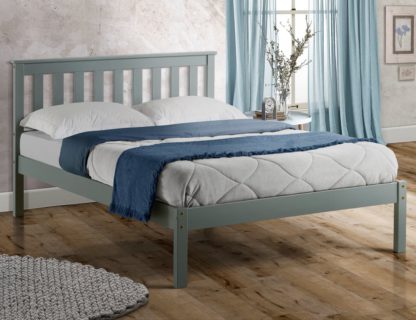 Happy Beds
Denver – King Size – Grey – Solid Pine Wood – 5ft
£234.99 From Happy Beds
Description
The Happy Beds Denver Grey Bed is the ideal bedroom centrepiece for those who love a more traditional, classic furniture feel. Crafted from solid pine with a durable grey finish, and featuring a solid slatted base, the Denver blends simplicity of style with sleeping support, giving you a comfortable night's sleep. And, for those with too much clutter, there's plenty of room underneath the bed for storage!.
The Denver is crafted in the traditional shaker style, to give a heritage feel to your bedroom. This contrasts with the grey finish which gives the bed a touch of contemporary design and a little extra adaptability and versatility, helping it to blend with a variety of styles and colour palettes. The straight-edged design of the headboard, and overall structure of the bed, give the Denver a no-fuss, sturdy feel, which is further enhanced by the pine structure.
If you're one for too many belongings, or have a small bedroom, the Happy Beds Denver is ideal due to its raised base and capacity for storage – just pop some storage boxes, baskets, or drawers underneath the bed! This will help you stay clutter-free (we hope!
) and the slatted base will also help your belongings receive some ventilation, too
Comfort is a focus of the Denver, with a solid slatted base supporting your mattress as you sleep. These solid slats also allow air to circulate around the mattress to help it breathe. This breathability helps the mattress stay fresh and dry, helping it to live longer!