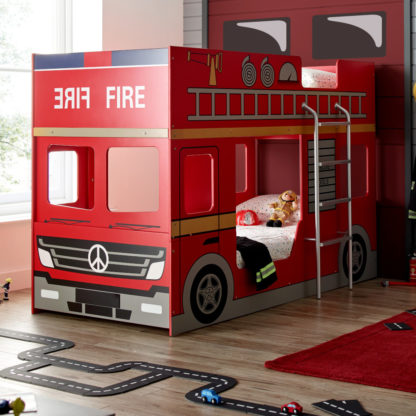 Sale!
Happy Beds
Fire Engine Red Wooden Bunk Bed – 3ft Single
Description
The Fire Engine Bunk Bed is an excellent choice for any aspiring firefighters out there! This fantastic bed fully replicates a fire engine from the hose on the side to the window wipers painted onto the front. This bunk bed will make a fantastic addition to any child's room.
Ideal for Sleepovers!
If your little one likes to have sleepovers, or you have siblings who share a room, and they love Fire Engines, then you're in for a treat! Our Fire Engine Bunk Bed accommodates two sleepers comfortably and features a sturdy metal ladder for easy access to the top bunk. Perfectly safe, this bunk bed conforms to the British Standard BS/EN 747:
2021+A1 to ensure that it will keep your children safe, night after night
Quirky Touches. To make bedtime a much more enjoyable experience, the Fire Engine Bunk Bed features unique touches that improve the look and feel of the bed. These features include a fully moveable wheel at the front of the bed which can be twisted 360 degrees, and a chalkboard number plate that can be drawn on to make the bed unique to your child.
Outstanding Appearance. The Fire Engine Bunk Bed has a truly outstanding appearance. The bright red exterior is bold and will easily stand out in any space. Each individually painted element of this bed comes together to create a look that is reflective of a real fire engine, whether it be the painted grey ladder or the door at the front of the bed.
embed-container { position: relative; padding-bottom: 56.25%
; height: 0; overflow: hidden; max-width: 100%
; }
embed-container iframe,
embed-container object,
embed-container embed { position: absolute; top: 0; left: 0; width: 100%
; height: 100%
; }