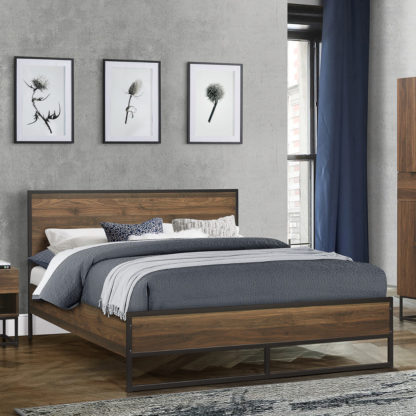 Sale!
Happy Beds
Houston Walnut Wooden Bed Frame – 4ft Small Double
Description
Modern, industrial and irresistibly chic, the Houston Walnut Bed is a truly incredible piece of furniture, expertly crafted to achieve an aesthetic that is iconic and outstanding. From the walnut finish to the dark metal accents, the Houston Wooden Bed is designed for those who want something less traditional and more contemporary, whilst offering fantastic levels of support and comfort for all those lucky enough to experience this wonderful bed.
Robust Construction. Solid Slatted Base
Built from sturdy metal and wooden components, the Houston Walnut Bed can withstand even the toughest tests of time. The Houston Walnut Wooden Bed features a solid slatted base that helps to provide all sleepers with a supportive and comfortable night's sleep. What's more, it also helps to prolong the lifespan of your new or existing mattress.
Industrial. Contemporary. Chic
The Houston Walnut Bed is a piece of furniture that's designed to be a statement piece. Offering an industrial aesthetic that really has to be seen to be believed, the Houston Wooden Bed is perfect for either adding a modern touch to your master bedroom, or being used as a basis to renovate a room around. No matter how you choose to use your Houston Walnut Bed, your bedroom is certain to feel revitalised thanks to the stunning contemporary chic aesthetic this wonderful bed has to offer.
Self Assembly Made Simple
Included with your purchase of a Houston Walnut Bed are helpful step by step instructions that allow you to build your new bed with ease, all from the comfort of your own home. That's because the Houston Wooden Bed is supplied flat packed for your convenience and ease of delivery, so you can say goodbye to the awkward challenge of trying to get your new bed up the stairs!.