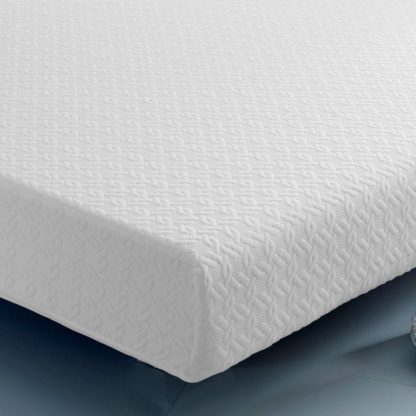 Sale!
Happy Beds
Impressions 6000 Cool Blue Memory and Reflex Foam Orthopaedic Mattress – European King Size (160 x 200 cm)
Description
A modest choice for those seeking a good compromise between good back support and great levels of comfort, the Impressions 6000 Cool Blue provides the ideal balance for a good night's sleep. Complete with an excellent ratio of reflex to memory foam, the Impressions 6000 Cool Blue truly is a top choice.
All good things in moderation. Crafted with 120mm reflex foam for a firm foundation and 50mm of memory foam for a comfortable top layer, the Impressions 6000 Cool Blue is a fairly average sized mattress at 17cm thick, yet no part of its interior is wasted.
Economically sound. The Impressions 6000 Cool Blue is an excellent mattress for orthopaedic purposes, thanks to the combination of reflex and memory foams. It's a medium level of firmness, providing a good amount of comfort, all whilst maintaining great back and joint support thanks to the thick memory foam layer.
Even more comfortable and convenient. An additional element that enriches the Impressions 6000 Cool Blue is the luxurious Double Jersey fabric cover, the likes of which is removable. This allows a much easier way to keep the Impressions 6000 Cool Blue clean, and as it is a foam based mattress it only needs to be rotated every six weeks to keep it looking and feeling its best.
The cover displayed is for illustrative purposes only. The design of the cover may vary on arrival, but will still be of the same specification..