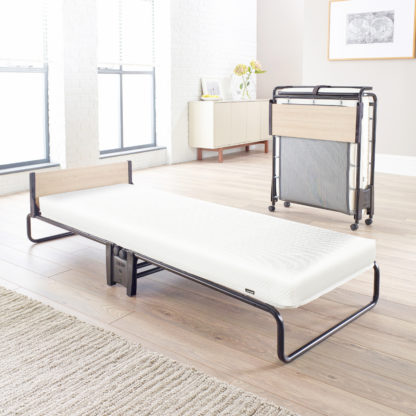 Sale!
Happy Beds
Jay-Be Revolution Folding Bed with Memory Mattress – 2ft6 Small Single
Description
Step up your camping game with the Jay-Be Revolution Folding Bed, a sleeping solution that's so comfy you could be mistaken for thinking this is a traditional bed! That's because the Jay-Be Revolution Bed comes complete with a full width headboard, styled in a gorgeous oak effect finish. The stylish black legs are coated in a powder paint finish, so you can be sure that the Jay-Be Revolution Folding Bed is resistant to wear and tear – no matter where you take it!.
Environmentally Friendly. Maximum Durability. The exceptionally robust construction ensures that you can easily get your forty winks, without fear of the bed collapsing through the night! The Jay-Be Folding Bed features the innovative J-Tex sprung base system which provides maximum durability, ample support and optimal comfort for all sleepers. What's more, the Jay-Be Value Folding Bed includes a mattress that is 100% foam free and hypoallergenic, so it's good for you and the environment.
The Jay-Be Revolution Folding Bed surpasses British and European safety standards and is built here in the UK from sustainable, recyclable materials that help to reduce land waste and protect our environment.
Bespoke Mattress Included. Which Will You Choose?
The Jay-Be Folding Bed requires a specific mattress that meets its requirements. That's because these mattresses must be vigorously tested to maintain performance even after being folded and unfolded time and time again. Included with every purchase of the Jay-Be Revolution Folding Bed is a mattress of your choice. You can choose one of the following options:.
Rebound Mattress – smart polyester fibres are bonded together in a 100% foam-free layer with a soft-woven fabric cover. 2) Memory e-Fibre Mattress – a knitted sleep surface that is hypoallergenic with a memory e-Fibre layer that offers pressure relief. 3) Memory e-Pocket Mattress – individual springs adapt to your body and provide comfort, coated with Purotex, a 100% natural probiotic technology to reduce allergens.