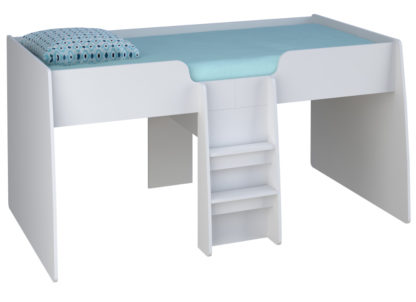 Sale!
Happy Beds
Loft Station White Wooden Cabin Bed Frame – 3ft Single
Description
The Loft Station White Cabin Bed is the perfect choice for younger children. With ample under-bed room, this extra space can be transformed into a play den for your little one's to relax in. Alternatively, the Loft Station Cabin Bed can be paired with the Loft Station White Desk and Loft Station Bookcase to create their very own study area. The possibilities are endless!.
Functional yet robust, the Loft Station White White Cabin Bed is manufactured in accordance with the UK Safety Standards to create a piece your little one will be safe in, night after night. The Loft Cabin Bed has raised sides to prevent accidental falls and the frame is made from thick coated particle board for extra durability.
To help utilise bedroom space, the Loft White Cabin Bed comes with a ladder placed centrally in the frame. This ensures that the bed can be placed any way around and efficiently makes use of bedroom space. The white exterior of the Loft Cabin Bed is gender-neutral and is sure to make a great addition to any boy or girl's bedroom!.
Matching furniture can be purchases separately, Loft Station White Wooden Bookcase and Loft Station White Wooden Desk.