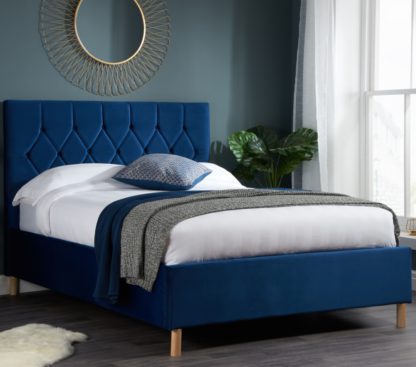 Sale!
Happy Beds
Loxley Blue Velvet Bed Frame – 4ft6 Double
Description
The Loxley Fabric Bed is an incredible choice for those looking to add a gorgeous splash of colour to their bedroom, complete in a luxurious design. The deep sapphire blue velvet fabric is certain to provide your room with an absolutely stunning centrepiece that will undoubtedly receive endless compliments from visiting guests.
Beautiful and Timeless Design
Oozing sheer beauty from any and every angle you look at it, the Loxley Fabric Bed is certainly a stunner. From the deep, rich blue fabric to the distinctive natural wooden cylindrical legs, this bed is unmistakably premium. The generously sized buttoned headboard with a diamond-like pattern adds a lovely touch of class that's incredibly enticing. Available in 4ft, 4ft6 and 5ft sizes, there is a Loxley Fabric Bed for everyone. So, no matter the bedroom, the Loxley Blue Velvet Bed makes for an exceptional addition.
Optimum Comfort
The Loxley Velvet Fabric Bed prioritises your comfort thanks to its sprung slatted base, meaning all sleepers receive a cushioned yet supportive sleeping experience that will help them wake feeling refreshed and ready for the day ahead. So, sit back and relax in style whilst enjoying the exquisite comfort that this bed has to offer.
Lavish Blue Velvet Upholstery
Undoubtedly the most striking aspect of this bed is its deep blue upholstery. A pleasure for the eyes, the upholstery on the Loxley Blue Velvet Bed is also irresistible to the touch. The stunning material is a wonderful velvet fabric that is extremely soft and will surely leave you yearning for your bed at the end of the day.