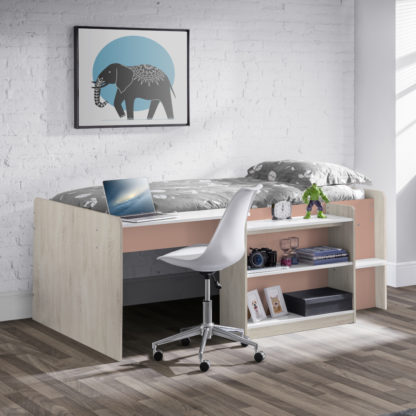 Happy Beds
Neptune Pastel Pink Wooden Cabin Bed Frame – 3ft Single
£239.99 From Happy Beds
Description
The Neptune Midsleeper Bed is the perfect choice for children who lack storage space or for children who just like to stay organised! This incredible design incorporates a comfortable sleeping space, ample storage and a practical desk. The uses for the Neptune White and Pink Mid Sleeper are endless!.
What Storage Is There?
The built-in storage of the Neptune White and Pink Wooden Mid Sleeper is exceptionally organised. Featuring open shelving units that are perfect for storing books, toys and more, the Neptune Mid Sleeper Bed also has under-bed storage available. This hidden storage is ideal for holding more oversized items out of sight, such as games boxes. The open shelving units also have surface space, which is excellent for keeping alarm clocks and other essential items.
Impressively Versatile. So what can the Neptune Mid Sleeper Bed be used for? Everything! Due to the space-saving, creative design, they can use this bed for sleeping, drawing, studying, eating, playing and in one compact space! This bed will make a great addition to any growing child's bedroom.
Crafted With Care. The lovely white and pink exterior of the Neptune Mid Sleeper is coated in a wear-resistant lacquer to protect the frame and maintain a like-new appearance. Delivered flat packed, the Neptune Mid Sleeper Bed comes with a set of easy-to-follow instructions that will ensure your assembly is stress-free!.