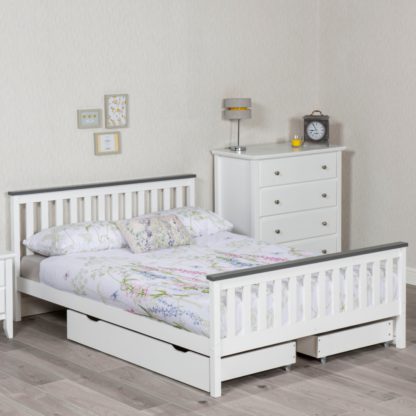 Sale!
Happy Beds
Shanghai White and Grey Wooden Bed Frame Only – 3ft Single
Description
Wonderfully timeless and bursting with appeal, the Shanghai White and Grey Wooden Bed makes for a perfect addition to any bedroom. The Shanghai Wooden Bed features a pristine white finish with gorgeous grey highlights for an elegant and neutral aesthetic. This all results in a bed that is incredibly flexible and can be seamlessly integrated into both traditional and contemporary bedrooms.
Shaker Style
The Shanghai White and Grey Wooden Bed features matching shaker style head and footboards for a perfectly balanced aesthetic. Featuring a crisp and clean white finish, the Shanghai Wooden Bed is elegant and neutral. The Shanghai Wooden Bed is topped with grey accents that complement the pristine whites beautifully and help reinforce the neutral appeal of this gorgeous bed.
Strong and Durable Wood
Crafted with high quality wooden components for a solid and sturdy frame, the Shanghai White and Grey Bed is built for longevity. The sprung slatted base helps prolong the lifespan of your new or existing mattress whilst also providing a better sleeping experience. The Shanghai White and Grey Bed is reinforced with two supporting wooden legs positioned underneath the center of the frame. This robust structure ensures you will be enjoying your new Shanghai bed for many years to come!.
Convenient Storage and Convenient Delivery
Featuring a generously sized under bed area, the Shanghai Wooden Bed has plenty of space to help declutter your bedroom. The Shanghai White and Grey Bed is supplied flat packed for convenient delivery and easy storage. Our helpful instructions are included with your purchase and available for online access, making self-assembly as quick and effortless as possible.
Under Bed Storage Drawer
Turn the Shanghai Wooden Bed into a Storage bed with the addition of the Zibo White Wooden Storage Box or the Zibo Grey Wooden Storage Box. They will both sit neatly under the side rail of the main frame and can easily be accessed when needed thanks to the wheels underneath.