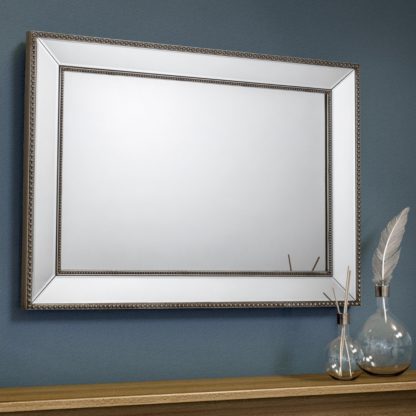 Happy Beds
Symphony Pewter and Glass Rectangular Wall Mirror – 110 cm x 80 cm
£159.99 From Happy Beds
Description
The Symphony Beaded Wall Mirror clearly takes a step away from what is deemed a traditional mirror. We all know that a mirror is a necessity for most households, whether it be to fix up your tie and check your hair or ensure there's no food stuck in-between your teeth. But who says you can't choose a mirror with a bit of style, a bit of character and a bit of class? Certainly not us!.
With this mirror and its beaded border, it would be perfectly placed in the bathroom for aesthetic purposes, adding a touch of serenity and tranquillity to the atmosphere. However, as always, the choice of room is completely up to you. The interior décors of the modern household tends to change door-to-door, but wherever you place the Symphony Beaded Wall Mirror, you'll be inserting some character and texture to the room.
Mirror, Mirror, on the Wall. Who is the fairest of them all? You – when you purchase this exquisite piece of decorative furniture! Made from moulded resin sunk into the wooden frame, it turns a traditional wooden border into a sleek, simple and elegant frame. The beads applied to the border further add to the elegance, as mentioned above, giving the mirror some much needed texture. The Pewter effect with a lacquered finish completes the look of the mirror, making it a much-desired piece for any modern room.
There is an obvious convenience of owning a mirror, regardless of the room it goes in. Bringing in natural light through a window is easy enough but a mirror can act as a reflector, brightening up the spots where windows just can't reach.