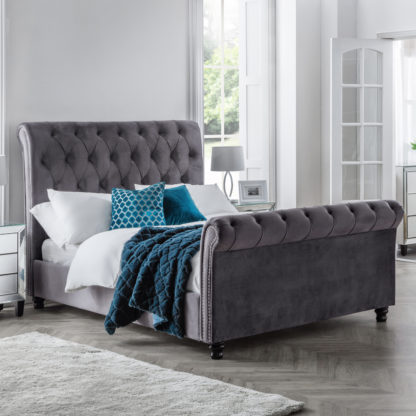 Sale!
Happy Beds
Valentino Grey Velvet Fabric Sleigh Bed Frame – 4ft6 Double
Description
Luxurious in every sense of the word, the Valentino Fabric Sleigh Bed is guaranteed to add a splash of class to any bedroom lucky enough to house it. Offering both comfort and style, the Valentino Grey Velvet Sleigh Bed is undoubtedly a fantastic choice for those looking for one of the most sophisticated beds available, all the whilst enjoying a wonderful sleeping experience every night.
Comfortable Sprung Slatted Base
Upholstered in a beautiful grey velvet fabric, the Valentino Sleigh Bed is irresistibly soft and comfortable. Whether you're lounging around on a Sunday morning or busy getting your forty winks after a long day, the Valentino Grey Velvet Fabric Bed encourages you to relax and unwind. The Valentino Velvet Fabric Sleigh Bed features a sprung slatted base that ensures that all sleepers enjoy an exceptional level of comfort and support throughout the night.
Luxurious From Every Angle
The Valentino Grey Fabric Sleigh Bed boasts an exquisite level of attention to detail that ensures this marvel of a bed is breathtakingly beautiful from absolutely every angle. From the grand, deep buttoned headboard to the timeless legs, the Valentino brings a luxurious aesthetic to any interior that's certain to attract endless compliments from visiting guests.
Premium Quality Materials
Made using high quality components that are every bit as premium as they look, the Valentino Velvet Fabric Sleigh Bed is certain to grant you countless nights of blissful sleep that will help you wake feeling refreshed and ready for the day ahead. Your new Valentino Sleigh Bed is delivered flat packed for your convenience and ease of transportation, with our helpful step by step instructions included to help guide you throughout the self assembly process.