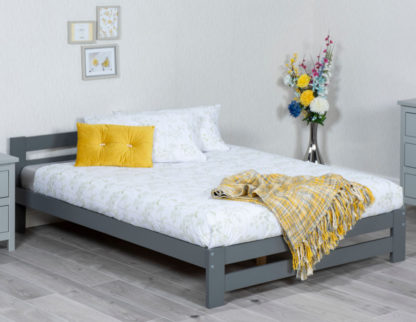 Sale!
Happy Beds
Xiamen Grey Wooden Bed Frame Only – 4ft6 Double
Description
If you are looking for the most minimalist bed possible that does not compromise on quality or beauty, the Xiamen Wooden Bed makes for a wonderful choice. Finished in a luxuriously dusky grey, the Xiamen Wooden Bed is incredibly neutral and complements any decor. Perfect for guest rooms and even main bedrooms, the Xiamen Grey Bed is a minimalist's dream.
A Minimal Frame to Maximise Space
The Xiamen Wooden Bed aims to maximise your floor space in a frame that elegantly complements your decor. Featuring a spacious under bed area that is perfect for de-cluttering, your bedroom could be nice and tidy in no time! The low foot end and minimal headboard of the Xiamen Wooden Bed helps your bedroom look incredibly spacious. So whether you are short on floor space or simply want a bed that is timeless and fitting for any bedroom, the Xiamen Grey Bed makes for a wonderful solution.
Built To Last
The Xiamen Grey Bed is crafted using premium quality wood that is incredibly strong and sturdy. Providing fantastic support for your new or existing mattress, you can be sure the Xiamen Grey Bed is engineered for optimum comfort. The Xiamen Wooden Bed is built to last, so you can rest easy knowing that this bed will be a wonderful addition to your bedroom or guest room for many years to come.
Assembly Made Simple
With the Xiamen Wooden Bed, you can say goodbye to the hassle of trying to get your new bed upstairs. Arriving flat packed for your convenience, you can easily store your new bed until needed. When the time comes to build your Xiamen Wooden Bed, simply follow the helpful instructions provided with your purchase to ensure a quick and easy assembly.
Under Bed Storage Drawer
You can turn the 3ft single Xiamen Grey Wooden Bed into a Storage bed with the addition of the Zibo Grey Wooden Storage Drawer. It will sit neatly under the side rail of the main frame and can easily be accessed when needed thanks to the wheels underneath.
Please Note: Due to the centre support rails, the Zibo Drawers are not compatible with the 4ft small double and 4ft6 double sizes.