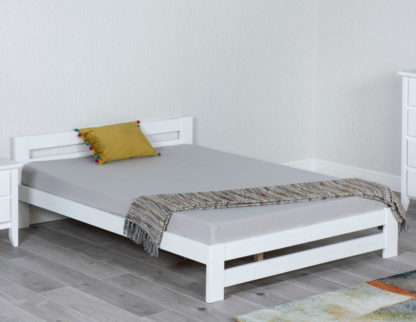 Sale!
Happy Beds
Xiamen White Wooden Bed Frame Only – 3ft Single
Description
The Xiamen White Wooden Bed is the perfect solution for those looking for a contemporary bed in the most minimalist form possible. With a crisp and clean white finish, the Xiamen Wooden Bed is wonderfully neutral so it can easily be accommodated into a wide range of bedrooms.
Minimalist and Modern
Ultra sleek and incredibly modern, the Xiamen White Wooden Bed is a minimalists dream. The minimal headboard and low foot end consist of a simple wooden design that is both sleek and stylish. With its crisp and neutral white finish that is designed to complement a wide range of decor, you can be sure the Xiamen Wooden Bed will look right at home in your bedroom.
Minimal Frame. Maximise Space
The Xiamen White Bed encourages you to declutter your bedroom and maximise your floor space. With a spacious under bed area that offers convenient storage, your bedroom could be tidy in no time! The low foot end of the Xiamen Wooden Bed helps to make your room look even more spacious, all in a sleek timeless frame.
Simple Design. Simple Assembly
The Xiamen White Bed is constructed using premium materials that ensure this bed is built to last. Arriving flat packed for convenient delivery and storage, you can relax knowing you will have no difficulties getting your new Xiamen bed upstairs. Included are our helpful and easy to follow instructions, meaning assembly is every bit as simple as it looks.
Under Bed Storage Drawer
You can turn the 3ft single Xiamen White Wooden Bed into a Storage bed with the addition of the Zibo White Wooden Storage Drawer. It will sit neatly under the side rail of the main frame and can easily be accessed when needed thanks to the wheels underneath.
Please Note: Due to the centre support rails, the Zibo Drawers are not compatible with the 4ft small double and 4ft6 double sizes.