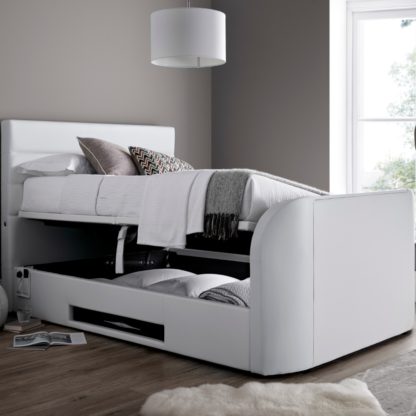 Sale!
Happy Beds
Annecy White Leather Ottoman Media Electric TV Bed Frame – 5ft King Size
Description
Storage, style and
a TV?
! This bed has it all! A perfect combination of beautiful white leather and spacious ottoman storage you couldn't ask for more out of a bed. Available in a double, king size and super king there's a Annecy for everyone!.
Elegant Ottoman Storage. TV beds don't all have to be super chunky. The Annecy is one of the slimmest TV beds on the market making for a more elegant finish. The Annecy White Leather Ottoman Bed has a spacious ottoman storage space inside the base, perfect for storing clothes, shoes and bedsheets to keep your bedroom clutter free! Upholstered completely in white leather, this bed is a modern masterpiece that is wonderfully easy to clean, just wipe down with a damp cloth.
Built-in Multimedia Capabilities
The Annecy White Leather Fabric Ottoman TV Bed truly has it all. With a TV holder in the footboard that accommodates up to a 43" TV, 2.1 surround sound speaker system built into the headboard and built in USB charging ports, the opportunities are endless with this amazing bed! The TV switches off automatically when lowered into the footboard so you can sleep easily. You can also connect your i.
Phone and i
Pad to this bed via Bluetooth to play your favourite music and you can store your Sky box and favourite game console beneath the base of the bed on the built in shelf.
Delivered Flat Packed
We are all about prolonging mattress life here at Happy Beds, so this bed has a ventilated mattress base to ensure good air flow to your mattress to keep it healthy! The Annecy White Leather Fabric Ottoman TV Bed is delivered flat packed so that it can be delivered with ease. Assembly is guaranteed to be simple with the step by step instructions provided.