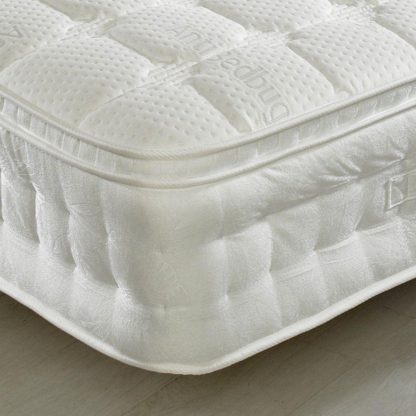 Happy Beds
Anti-Bed Bug 1500 Pocket Sprung Reflex Foam Pillow Top Mattress – 4ft6 Double (135 x 190 cm)
£384.99 From Happy Beds
Description
As the name suggests, the Anti-Bed Bug Mattress has been designed to help prevent invasive pests, thanks to its innovate and complex interior fillings. The Anti-Bed Bug Mattress is made with an incredible combination of latex foam, micro quilted panels and pocket springs, making it comfortable, sturdy and able to keep the likes of bed bugs at bay.
Sturdy Quality
As well as featuring firm reflex foam, the latex foam found within the Anti-Bed Bug Mattress is a special kind of foam that offers an exemplary level of comfort as well as an almost unparalleled degree of breathability, thanks to the multiple air holes found throughout it. Along with these luxurious materials is a wealth of wonderful inclusions, such as rich satin pads, durable polyester and even a delightful pillow top.
Plenty of Pocket Springs
The Anti-Bed Bug Mattress isn't simply crafted from high quality materials, it's also filled with an ample amount of pocket springs. These individually nested springs accommodate sleepers with essentially their own individual surfaces, as each spring moves independently and keep any restless movements isolated to the sleeper tossing and turning.
Superb & UK Sourced
Designed and crafted within the UK, using only UK sourced materials, the Anti-Bed Bug Mattress is fantastic mattress in terms of comfort and added benefits. Measuring at a thick 33cm, the Anti-Bed Bug Mattress is best suited to sturdier, larger bedframes. In order to keep the Anti-Bed Bug Mattress looking and feeling its best, it's advised that the mattress should be rotated every six weeks.