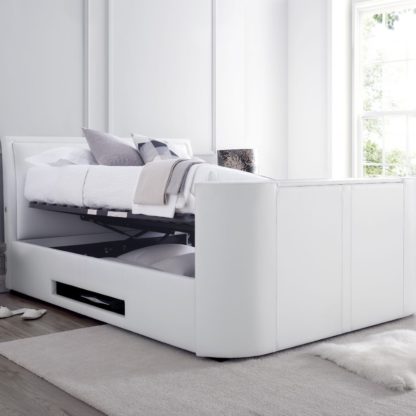 Sale!
Happy Beds
Ardwick White Leather Media Electric TV Bed Frame – 4ft6 Double
Description
Introducing the Ardwick Leather TV Bed, an incredibly luxurious centrepiece that doubles up as an excellent multimedia entertainment system! With cutting edge tech integrated into the bed, the Ardwick Ottoman TV Bed is the perfect way to game and enjoy your media from the lavish comfort of your own bed – all at the touch of a button!.
Pristine White Leather
Upholstered in a pristine white leather, the Ardwick Ottoman TV Bed looks simply gorgeous from every angle. The luxurious curved style headboard oozes character that is certain to bring charm to absolutely any bedroom. Versatile and elegantly neutral, the Ardwick Leather TV Bed will effortlessly complement your existing decor, all the whilst providing exceptional comfort and immersive entertainment.
Built-In Entertainment
The Ardwick Leather TV Bed brings a cinematic experience into your bedroom, from the comfort of your own bed! Boasting a high quality sound bar with built in subwoofer, audio is rich and full, with the included remote control allowing you to change the bass levels to suit you. The footboard houses a TV up to 43" discreetly, with access only a click of a button away. On top of this, the Ardwick Ottoman TV Bed includes Bluetooth technology and both headphone sockets and USB charging points on each side of the headboard for effortless connectivity to your mobile devices.
Generous Ottoman Storage
An excellent space saver, the Ardwick Ottoman TV Bed offers plenty of storage solutions so your room can be organised in no time. With Ottoman storage, you will have more than enough space for discretely storing all of your belongings. The Ardwick White Leather TV Bed also features a compartment area to store your TV box or games console, so you can enjoy the latest entertainment without the need for exposed wires!.