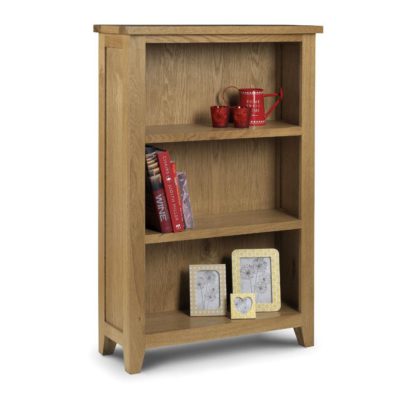 Sale!
Happy Beds
Astoria Oak Low Bookcase
Description
Providing ample storage space for all your favourite books, the Astoria Low Bookcase is the perfect solution for anybody who has more books than they do shelves. From crime fiction, romance, and historical novels to bestsellers and biographies. Whatever your favourite genre of book, you can store it in style on this solid oak bookcase. Carefully crafted with a premium quality finish, even the most avid bookworm doesn't need to sacrifice functionality for style when it comes to finding a home for all their reading material.
With two fixed shelves, the Astoria Low Bookcase provides plenty of space for all your books and can also hold A4 box files, making it a practical storage solution for your bedroom, living room or home office. Ideal for those living in smaller homes with limited storage space, you can use the bookcase to hold books or catalogues or even as an alternative to a filing cabinet for all your important papers. This frees up storage space around the home.
Its contemporary style and waxed oak finish ensures that it is at home in both modern and more traditional interiors, whilst its solid construction ensures it is durable and functional.
The Beauty of Solid Wood. When it comes to modern furniture, you're more likely to find bookcases made of cheap, inferior-quality material than you are solid wood. The Astoria Low Bookcase is constructed from solid oak with real oak veneers and rests on four chunky solid oak legs. It features a contemporary waxed finish that is both beautiful and durable, so it will stand the test of time. This functional yet gorgeous piece of furniture is sure to become a favourite, no matter which room of the home it is in.
Unlike some flat pack furniture which you need to assemble, this piece of furniture comes fully assembled so there is no need to assemble it yourself, meaning you have one less thing to worry about!