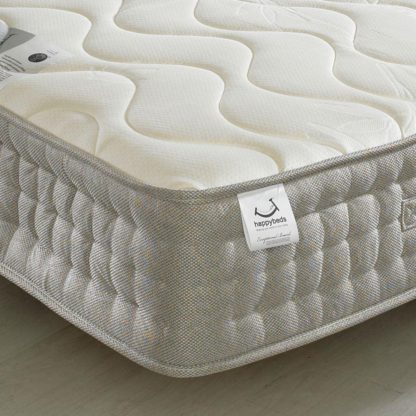 Happy Beds
Bamboo 1500 Pocket Sprung Memory and Reflex Foam Mattress – 4ft Small Double (120 x 190 cm)
£274.99 From Happy Beds
Description
Crafted using eco-friendly bamboo fibre, the Bamboo Pocket Mattress is a naturally enchanting and incredibly comfortable mattress. Also present within this mattress' innovative design are a host of pocket springs, making the Bamboo Pocket Mattress all the more cosy and much more stable.
Ecologically Excellent
Hypoallergenic, moisture absorbent and ultimately soft to the touch, the bamboo fibre present throughout the Bamboo Pocket Mattress is also a natural kind of deodorant, keeping the entire mattress dry and cool throughout the night. This material is also partnered with elements of memory and reflex foam, ensuring that the Bamboo Pocket Mattress' sleeping surface is both firm and accommodating.
Cosy & Accommodating
Abundantly found within the Bamboo Pocket Mattress are a wealth of pocket springs, the likes of which enhance the stability, sturdiness and overall comfort of the mattress. As they're individually nested they act independently, accommodating each sleeper separately. It's thanks to this that two sleepers can rest upon the Bamboo Pocket Mattress and, even if one is restless and fidgety, neither will disturb the other throughout the night.
Magnificence Guaranteed
The culmination of these exceptionally remarkable and exemplary grade materials make the Bamboo Pocket Mattress a truly divine choice for virtually bed. Measuring up at a modest 27cm, the Bamboo Pocket Mattress should be able to adorn most bed frames without any trouble. As there are elements of memory and reflex foam atop the Bamboo Pocket Mattress it requires rotating every six weeks to keep it feeling its best.