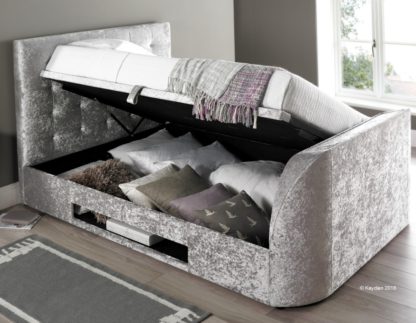 Sale!
Happy Beds
Barnard Silver Velvet Fabric Electric TV Ottoman Storage Bed Frame – 4ft6 Double
Description
Is space an issue within your home? Are you struggling to live comfortably because of your lack of space? Take watching TV as an example – many people love to watch TV in bed first thing in the morning or before they go to sleep – we have to admit that Netflix whilst cuddled in a duvet is one of our favourite things. This can often mean having to drill holes in walls so that you can suspend a television on a wall bracket. If this is not an option for you, you may find that you need to clear space on your dressing table to make way for your TV.
Well, not anymore! With the Barnard silver velvet fabric TV Ottoman storage Bed you can store your TV in the bottom of your bed! At the click of a button, your television will pop up and rise from the foot-end of your bed frame. That's some pretty fancy stuff, right?
A TV bed, WITH storage! This bed also features a spacious floating storage area beneath the mattress which you can access Ottoman-style. Just tug the pull-chord and let the piston-powered arms lift your mattress to an angle of 45 degrees. You can then safely and neatly organise your items in the storage space below.
The Barnard TV bed is manufactured using a solid hardwood mix construction from plantation timbers. The frame is then upholstered with a silver velvet fabric material, with deep button detailing adorning the headboard for extra visual appeal. There is also a gap in the side rail where you can store a digital television box, a games console or a DVD player – the choice is yours!.
Plus – you also have the added bonus of a platform style ventilated base beneath your storage area. This base provides ventilation and extra support to your mattress, helping to prolong its lifetime by an extra couple of years.
Please note; television and accessories not included