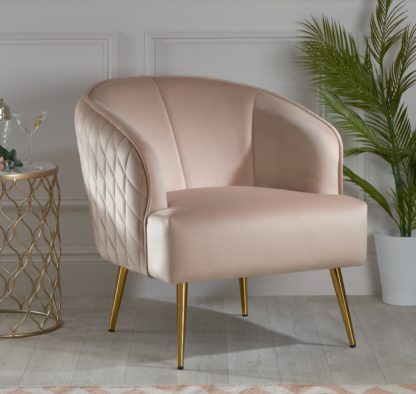 Happy Beds
Bella Pink Fabric Chair
£234.99 From Happy Beds
Description
Characterised with a luxuriant blush fabric, the Bella Pink Chair is the ideal solution for those who are looking for a chair that offers maximum comfort in a stunning and timeless design. A glamorous addition to any bedroom, living room or even hotel, the Bella Pink Fabric Armchair brings a beautiful vintage aesthetic in a lavishly comfortable package.
Quality Assured
Featuring exquisite attention to detail, the Bella Fabric Chair is incredibly charming no matter which way you look at it. From the extraordinary quilted shaped back to the characteristic gold metal legs, the Bella Pink Armchair is an epitome of quality. Whether you are looking to add some vintage vibes to your living room or completing a blush pink theme, the Bella Fabric Chair makes for a truly gorgeous solution.
Warm and Welcoming
The blush pink velvet ensures that the Bella Fabric Armchair sets a wonderfully warm and welcoming tone for all your friends and family. As part of the Bella Furniture Collection, you can find matching products effortlessly. The Bella Pink Chair has a generously sized padded seating cushion for divine comfort that is every bit as cozy as it looks. No matter how you spend your time relaxing, do so in luxury with the Bella Pink Fabric Armchair.
Maximum Comfort. Minimal Assembly
The Bella Pink Fabric Armchair arrives at your door partially assembled for your convenience. Once you have chosen the lucky room to house your new chair, simply attach the legs and you can be relaxing in no time! Introducing a gloriously comfortable and stylish chair has never been easier. So whether it is your living room, bedroom or any other room you choose, you can rest easy knowing the delightfully charming Bella Velvet Fabric Chair has your back.