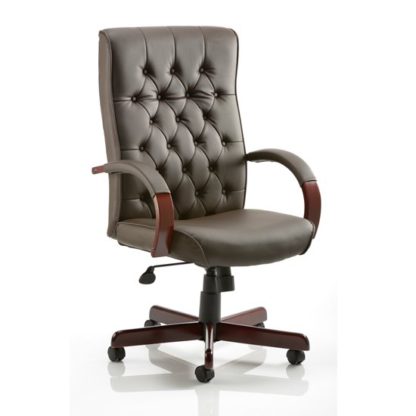 Sale!
Furniture in Fashion
Chesterfield Office Chairs In Brown
Description
This stylish Chesterfield Brown Colour Office Chair will definitely make a great addition to any type of office setting. It can provide you with a wonderful as well as comfortable sitting experience, during conference or any meeting. It will become a focal point of your office cabin or any room, giving pleasant look. This fabulous Chesterfield Brown Colour Office Chair Chair will add style to any office setting It offers classy brown faux leather finish that can blend well with any type of furniture High back support with wonderful buttoned design and wooden finished armrests with matching arm covers for extra comfort It provides you with the utmost luxury and comfort Firm wheels for easy relocation Swivel mechanism and gas lift motion Constructed with superb quality materials Available at an affordable price Available in Cream, Green And Burgundy Colour
Dimensions
SEAT: H 46-55cm X D 49cm X W 53cm BACK: H 72. 5cm W 51. 5cm .