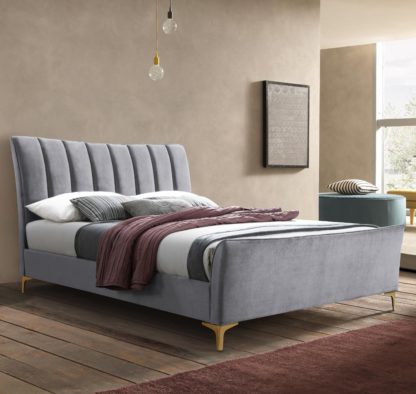 Happy Beds
Clover Grey Velvet Fabric Bed Frame – 4ft Small Double
£339.99 From Happy Beds
Description
With its neutral grey tones, the Clover Velvet Fabric Bed is certain to complement your existing decor, whilst providing your bedroom with a gorgeous centerpiece. Offering maximum support for your mattress and optimal comfort for you, the Clover Grey Fabric Bed makes for a worthy addition into any bedroom.
Neutral and Beautiful
Wrapped in a luxurious grey upholstery that is timeless and neutral, the Cover Velvet Fabric Bed is the perfect addition to traditional and modern bedrooms alike. The iconic subtle curvature of the tall headboard features a rich, pleated detailing that is boasting with charm and quality. The bold, golden legs beautifully contrast with the warm, velvet fabric for a truly stunning piece of furniture from every angle.
Exceptional Quality
The Clover Velvet Fabric Bed is crafted from only the highest quality materials that provide a premium and luxurious aesthetic. With a plush, cushioned headboard and sturdy metal legs, the Clover Grey Velvet Bed oozes quality from head to footboard. With an exceptionally robust wooden foundation, the Clover Velvet Fabric Bed is guaranteed to stand the test of time.
Easy Assembly
Whether you choose the 4ft, 4ft6 or 5ft Clover Grey Fabric Bed, you can rest assured knowing that each size is supplied flat packed for a hassle free delivery and convenient storage. Once you have your Clover Velvet Bed in your bedroom or guest room, you can self-assemble it with ease thanks to our helpful instructions provided with your purchase and available for online access.
Size: 4ft Small Double