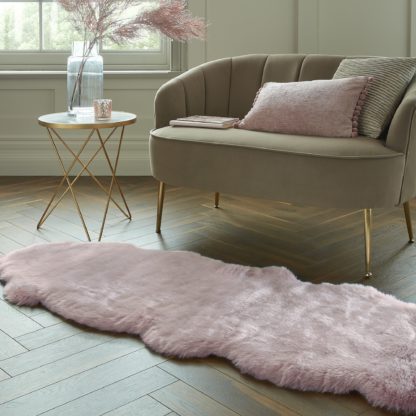 Dunelm
Copenhagen Double Pelt Faux Fur Rug Copenhagen
£60.00 From Dunelm
Description
Dense Faux Fur
Acrylic and Polyester Blend
Sheepskin Shape
Double Pelt Faux Fur
Realistic Look and Feel.
Go with the Faux, with our impressive Copenhagen Double Pelt Faux Fur Rug, the perfect way to get Hygge style in your space. Made with a dense faux fox fur, the Copenhagen Rug is the ideal design to keep your feet toasty all year round. In an acrylic and polyester blend for a real fur feel underfoot. We love using the Copenhagen Rug to add warmth and dimension to spaces in need of comfort. Use the double pelt size to add a touch of comfort next to beds.
A small amount of fibre loss is normal. Do not pull loose fibres, just trim with scissors. Re-roll your rug pile out for 24 hours to reduce curling. Regularly turn to ensure even wear. An anti-slip mat will help prevent slipping. Blot spills immediately with a clean, dry white cloth. Do not rub. Do not place this rug near an open fire. Please do not leave children or infants unattended.