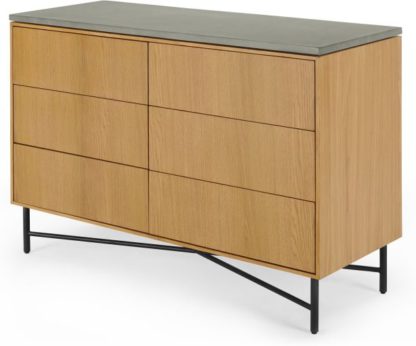 Sale!
MADE.COM
Dara Wide Chest of Drawers, Oak & Concrete
Description
Your bedroom needs a rework. Give it a sleek update with Dara. A classic wide chest of drawers that's effortlessly upgraded with a smooth concrete top, it's guaranteed to make an impact.
Dara makes light work of serious contrasts. Crafted from oak veneer, it's set on sleek metal legs, features push-catch drawers for an effortless close, and an open section to keep your books handy. All that and it looks minimal too, it'll work with any decor.
This is one for the bedroom. And trust us, Dara's six spacious drawers are exactly what your space needs. Designed in collaboration with Studio Lyceum, invest in the bedside table, wide chest of drawers and tall chest of drawers to maximise on the modern look.