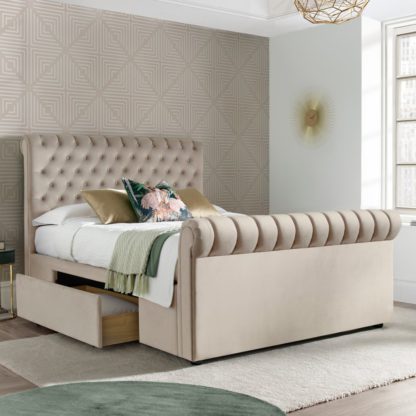 Happy Beds
Deacon – Double – 2 Drawer Sleigh Storage Bed – Neutral Warm Stone – Velvet – 4ft6
£584.99 From Happy Beds
Description
For a bed that has it all, look no further than the Deacon Cream Velvet Sleigh Bed. Incorporating style with a mixture of comfort and practicality, this bed will make a great addition to any home. The cream velvet exterior of the Deacon can be paired with home décor of any colour and will still look enchanting, making it a versatile choice.
Traditional in Style. Built with traditional features, the Deacon Cream Sleigh Bed has a scroll design of the headboard and footboard to give a stylish touch to every bedroom. The height of the headboard means that it will stand out, allowing everyone to see the elegant Chesterfield-style buttoning upon it. With a traditional look, the Deacon Sleigh Bed is timeless and will look good for years to come.
Simple Storage. To maintain a streamlined and neat look to the bed, the Deacon Sleigh Bed comes with 2 spacious drawers that slide out easily from the bed frame. These drawers are perfect for keeping items secure and out of sight, minimising clutter in the bedroom.
Completely Comfortable. Not only stylish, but the Deacon Sleigh Bed is truly comfortable too. The velvet upholstered covering the bed frame is soft-touch and adds an extra layer of comfort as you rest your head. A sprung slatted base means that the Deacon Cream Velvet Storage Sleigh Bed will support your mattress and provide you with more comfort as you stretch out and drift off.