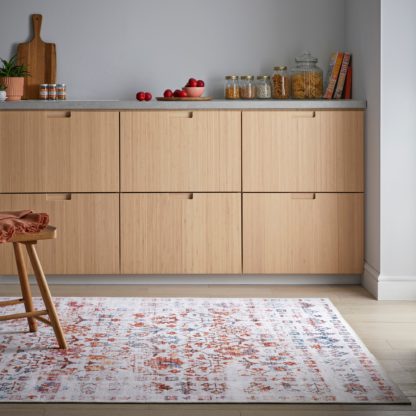 Flair
Fold Camille Traditional Washable Rug Multi Coloured
£79.00 From Dunelm
Description
Foldable rug
Repetitive pattern
Colourful hues
Easy to store
Suitable for all rooms
Machine washable.
Introducing the Fold Camille Traditional Washable Rug, a unique, machine washable and foldable rug in a traditionally inspired design, paired with a classic soft shade. This piece is a versatile option for versatile homes and lives, packed in its own easy to handle tote bag and a 100% polyester pile, the low-profile composition is perfect for sitting under furniture or in high-traffic areas. The Fold Camille Traditional Washable Rug is great to use in every room in the house, even kitchens and bathrooms because of its machine washable qualities. To wash at home simply pop in the washing machine at 30 degrees with no detergent, and then line. Make sure to check machine drum size so you don't overfill.
Care guidelines: Safe for use on a heated floor. Use a suction type vacuum – rotating brushes may damage this rug. Regularly turn to ensure even wear. An anti-slip mat will help prevent slipping. Blot spills immediately with a clean, dry white cloth. Do not rub. Do not place this rug near an open fire. Please do not leave children or infants unattended.