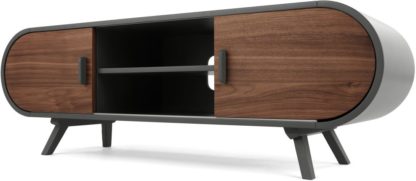 MADE.COM
Fonteyn TV Stand, walnut and grey
£549.00 From MADE.COM
Description
Designed exclusively for MADE by award-winning furniture designer Steuart Padwick, this is the most elegant way to display your home entertainment system.
The body is coated with a protective, barely-there lacquer. Run your fingers across the wood and and you can still feel every ridge and groove.
As well as saving space, the sliding doors protect your equipment as they close together. There's plenty of room on the front and side shelves.
The Fonteyn range is one of our most popular and it's definitely a favourite with the press. Don't just stop at this media unit, create a bold '60s look with more pieces from the collection.