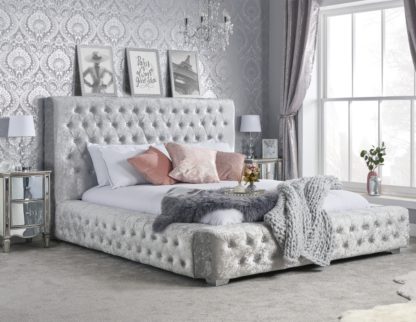 Happy Beds
Grande – King Size – Light Grey – Crushed Velvet – 5ft
£634.99 From Happy Beds
Description
Oozing luxury from head to footboard, the Grande Crushed Velvet Bed is every bit as premium as it looks. With a stunning steel coloured fabric that would not look out of place in Buckingham Palace, the Grande Steel Velvet Fabric Bed is the perfect solution for those who want uncompromising quality. Finished with a diamond buttoned headboard, the Grande Velvet Fabric Bed makes an exceptionally gorgeous centrepiece for any bedroom that is lucky enough to contain it.
Luxurious Crushed Velvet
The Grande Steel Velvet Fabric Bed boasts unrivalled attention to detail that results in a piece of furniture that truly has to be experienced to be believed. The incredibly stunning polyester upholstery covers the headboard, foot end and side panels for a gorgeous bed from every angle. With decorative diamonds that beautifully complement the stunning steel crushed velvet, you can sleep like royalty every night in the Grande Fabric Bed.
Traditional Versatility
A wonderful and worthy statement piece, the Grande Crushed Velvet Fabric Bed looks right at home in a traditional bedroom. The silver tones of the fabric help create a neutral aesthetic that is certain to complement all of your existing decor. Fear not, modern lovers, for the steel crushed velvet fabric ensures that the Grande Bed steals the show in absolutely any bedroom. Available in three sizes to choose from, you can be sure that there's a Grande Steel Crushed Fabric Bed for you.
Sprung Slatted Comfort
Grande by name, this steel crushed gem of a bed maximises your comfort with its sprung slatted base that is lowered into the bed. Offering a bounce that adjusts based on where pressure is applied, the Grande Crushed Velvet Bed ensures optimum comfort whilst providing extra support for your mattress. Irresistibly plush and incredibly supportive, you can rest in blissful luxury knowing the Grande Steel Crushed Velvet Bed has your back.