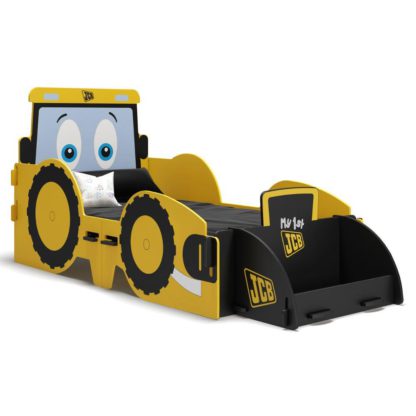 Sale!
Happy Beds
JCB Yellow Children's Digger Toddler Bed Frame – 70 x 140 cm
Description
A charming addition to a budding builder's bedroom, the JCB Junior Bed is both a delightfully novel means of allowing the younger members of the family get a good night's rest as well as a way of keeping a room clutter free.
Dual Functionality
As well as being a sturdy, stable and uniquely stylish toddler and junior sized bed, the JCB Junior Bed also features a spacious toy box area at the foot of the bed. Adhering to the same aesthetic of a JCB digger, the toy box area is shaped and stylised to resemble a digger's scoop.
Can You Dig It?
Whether you're expecting a bustling boy or simply looking to keep a kid's room looking vivid and vibrant, the JCB Junior Bed is undeniably eye-catching addition to any home. Cartoonish in nature and dubbed 'Joey JCB', the JCB Junior Bed should act as an utterly endearing means of furnishing a young child's room.
Easy Assembly
Along with everything else within the JCB collection, the JCB Junior Bed is crafted to be durable for as many years as it may be needed, and is easy to assemble thanks to its jigsaw style design. Simply slot each piece together and set the JCB Junior Bed wherever it'd look best.
Part of the JCB Wooden Bedroom Furniture Collection
The JCB Yellow Toddler Bed is part of the JCB Wooden Bedroom Furniture Collection