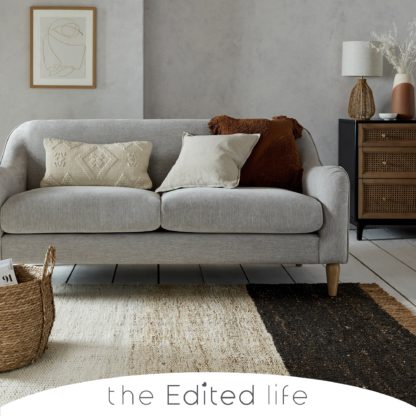 The Edited Life
Jute Ombre Rug Yellow
£79.00 From Dunelm
Description
The Edited Life – Jute Ombre Rug.
Expertly handmade on a pit loom by experienced crafters, the dyed jute and wool fibres give a beautiful finish. Authentic flatwoven style, the Edited Life Jute Ombre rug uses monochromatic palettes with a popular ombre effect. Handwoven by skilled rug artisans in India in durable wool and jute blend, the design embraces natural fibres for a raw yet refined look. Versatile enough for any space, flatwoven rugs are perfect for high-traffic areas and sitting under furniture. Get the authentic look in your living space and complete the look with natural textures.
Live well. Mean well. Be well. Many of us want to live simpler lives, to reduce our impact on the environment, and improve our wellbeing.
As we become more aware of our surroundings and understand how our choices contribute to the world around us, more people are choosing to consume less and curate more.
The Edited Life introduces a new era of thoughtfulness in the home, with an understated collection of pieces chosen for their simple beauty, quality craftsmanship and innate usefulness that will last beyond any trend.
Having it all is no longer the goal; having enough, and it being just right, is.
Don't forget to buy our handy anti-slip mat, here, available in a range of sizes.
On opening, re-roll your rug pile out and leave in a warm room for 24 hours before putting in place. This will help to reduce wrinkles and curling from packing. Use a slip-resist pad to help keep your rug in place and provide additional protection for hard floors. Before using any cleaning products on your rug, test an inconspicuous area first for colour fastness. Do not pull any loose threads – please cut loose threads carefully with scissors to remove. Avoid prolonged exposure to direct sunlight as this may cause fading of some dyes. Turn your rug regularly to ensure even wear. Clean spills immediately by blotting with a clean dry white cloth – do not rub. A small amount of fibre loss is normal on a new rug. May be carefully vacuumed using a floor or brush attachment.  Colours may vary due to natural fibres.